---
ECEEN 30W Portable Solar Charger Panel with 24W USB-C + Dual USB-A & 18V DC Outputs for Smart Cell Phones, Tablets, PSP, Cameras, Power Bank and Other 5-18V Devices Car Boat RVs Off Grid Charge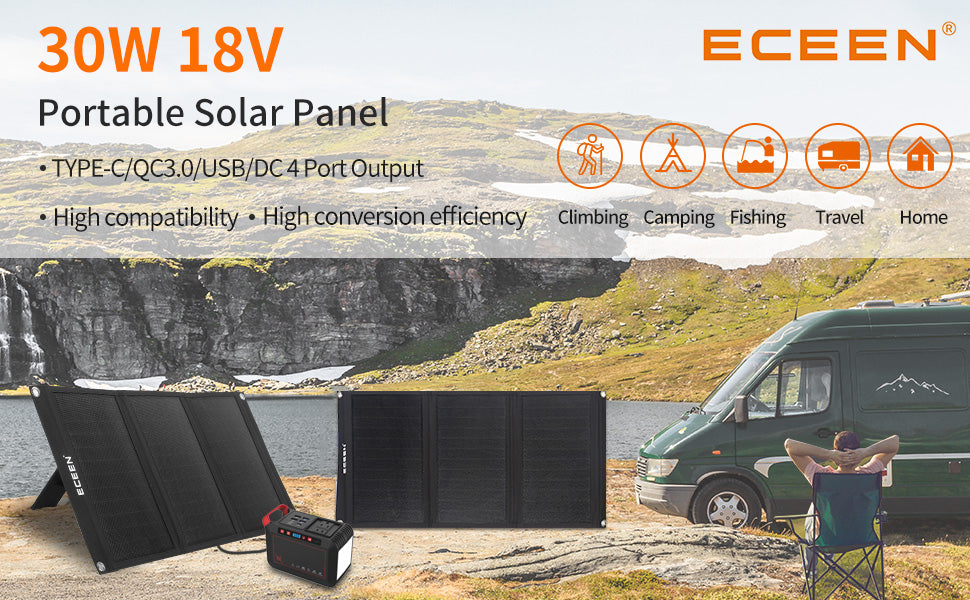 Features:

High Energy Conversion -- Uses the latest Squamae module technical, which over lapping solar cells in high-density, no gaps means more cells can be placed in the same area, that greatly improves the efficiency of solar panel conversion, and the overall power output will be enhanced by 19%. Much higher than the market average level.Equipped kickstands to ensure that the solar panels facing the sun at all times, and with light transmittance ETFE laminated solar panels, you'll get the good quality and high solar conversion efficiency together.
Extensive Compatibility -- Dual USB Ports QC3.0 & PD3.0 (5V/9V/12V 2A max), Designed for mobile phone/tablet PC/laptop/mobile power supply /PSP/MP4/GPS/Bluetooth headsets/GPS/Digital cameras and other QC3.0 and PD protocol related electronic devices. And the DC port(1.5A Max) can charge car batteries and accumulators. Perfect for outdoor life. (The solar panel doesn't store electricity. It's a device needs to be attached in the sun.)
Smart Charging Technology-- Built-in smart chip smart identification of your device, and according to different devices to provide the best charging speed. 100% safe charging, with overcharge, overheating, short circuit protection, No re-plug, no reboot any more
Foldable and Portable -- The 13.0*7.9*1.4in (folded)/ 26.0*13.0in(Unfolded), weighs only 2.5 lbs design that can easily squeeze in your backpack offers portability and simplicity, and the attachment hook makes it ideal for connecting to a backpack while you're on the hiking or walking around town.
Durable & Rain-Resistance -- EFTE laminated solar panel which with superior light transmittance and weatherproof performance, and is also heat, corrosion, and UV resistant. The outer layer is made of sturdy and durable Oxford cloth can withstand different weather conditions. And the charging ports are covered by a cloth flap and rubber cover to protect them from dust or water damage. With its IPX4 waterproof Very nice for camping, climbing, hiking, picnic. or other outdoor activities.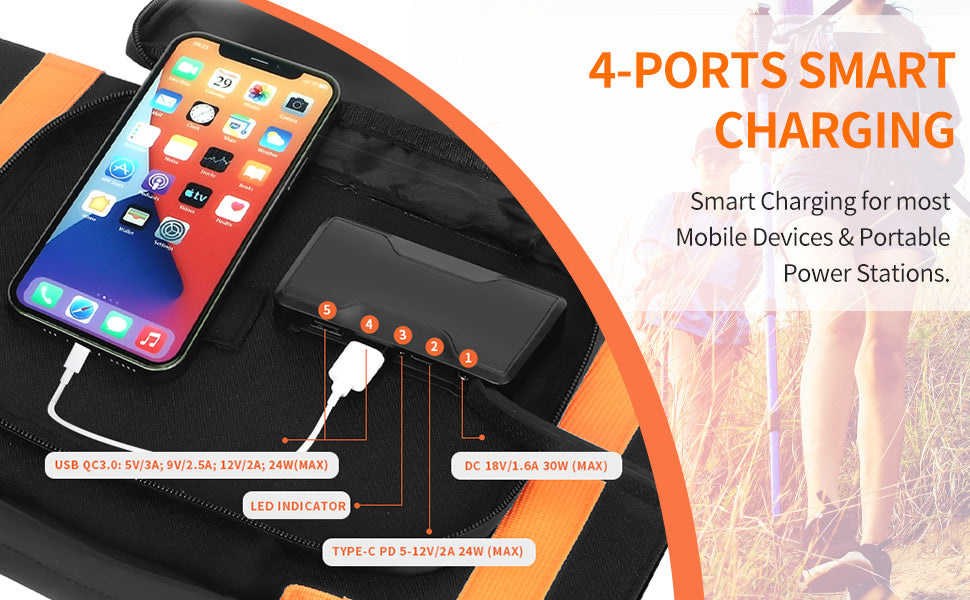 Taking ECEEN Solar Charger on the Go with You!
Whether you're an outdoor enthusiast, hiking or camping junkie or you just simply enjoy long adventures and travels outside you will really love the convenience of having a ECEEN solar-powered charger.

Enjoy the sights and beauty of nature while having your important gadgets powered by ECEEN Solar Charger, It is easy to be folded to the size of magazine, can be put in your bag, as a portable direct power to carry.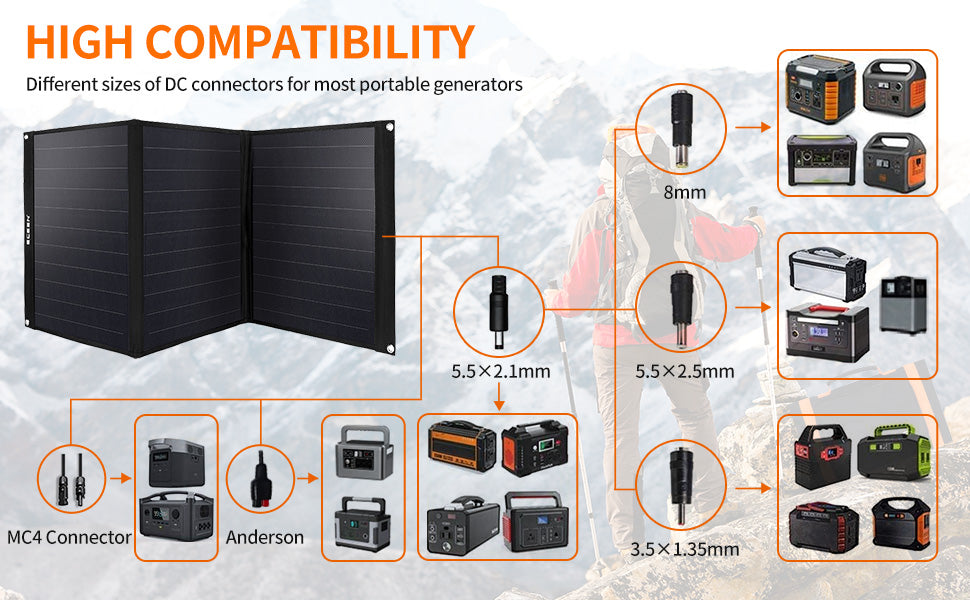 Specifications:

Power: 30W/18V
Output: DC port(18V/1.5A max), Dual USB QC3.0 ports(5V/3A or 9V/2.5A or 12V/2A 24W max), 1* USB-C PD port(5V/3A or 9V/3A or 12V/3A or 15V/3A, 30W max
Folded Size: 13.0*7.9*1.4in (33*20*3.5cm)
Unfolded Size: 26.0*13.0*0.8in (66*33*2cm)
Weight: 2.5 lbs (1.1kgs)
Transition Efficiency: 19%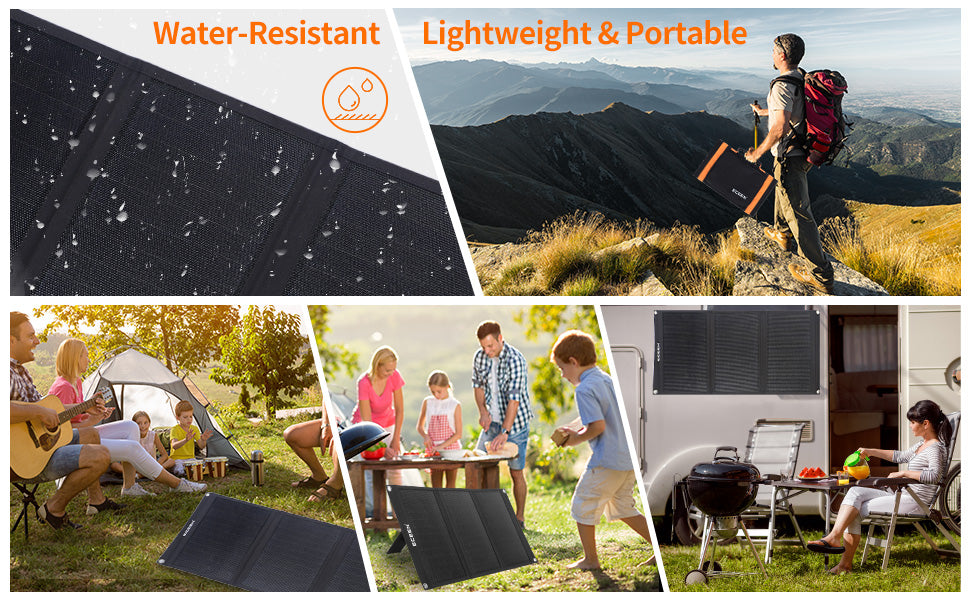 How to Start:
1. Fully open the three panels in direct sunlight on sunny days.
2. Adjust panel angle, make sure sunlight shines panel as vertical as possible.
3. Connect your cable to the DC port/USB/USB C port, then start charging.

Note:
1. The time period of the highest power generation efficiency is from 10:00 to 14:00.When it is cloudy or sunlight become weaker, the output of the panel may become unstable due to low power generation efficiency.
2. We do not recommend that you charger in the car or near windows for the reason that the glass will block the heat of the sun so conversion efficiency will get lower.
3. When the sunlight is not enough and multiple output ports are used at the same time, the solar panel will automatically distribute the current and give priority to charging some of the devices.
4. Although polyester canvas provides waterproof protection, we recommend minimizing contact with water to protect the internal electronic components of the product.
5. Please note that the power generation will vary depending on the installation location, weather conditions, sunshine time, etc.

Package Contents:
1* User Manual
1* 60W Solar Panel
1* 3-in-1 DC Connector (DC 55*21 transfer to 8mm, 2.5mm, 1.35mm DC adapter)
1* 59 inch DC5521-to-DC5521 Cable
1* 59 inch DC5521-to-C4 Connector Cable
1* 59 inch DC5521-to-Anderson Connector Cable

30 watts Mobile solar charger product is very good neat and clean
I received the package last week. 30 watts Mobile solar charger product is very good neat and clean. Product packaging is perfect. Price is very suitable and cheap as compared to other solar panels available in market. This solar panel looks little bit different from other solar panels Due to overlap solar cells with ETFE lamination technology. I tested it . My mobile phone showing "fast charging". Seller's communication is excellent. She is very helpful and friendly. Specially thanks to seller for accessories like charging cable and different DC charging pin. Overall rating 10/10
Awesome panel for my battery bank 🤘
We're heading up for our upcoming camping trip and recently purchased this to trickle charge the large batter bank that we use for emergencies and charging our phones.
The solar panel is made really well and fits inside my backpack without an issue. As soon as there's enough light, the red light turns on inside the hub and allow for multiple charging. It charges my battery bank without an issue and have charged my phone as well. This would also work great near a window of you want to trainor charge something with free electricity and will add up over time in saving money!
Super Handy!
I decided to take a solar charger on our trip instead of portable battery because I was worried the cold weather was going to drain the portable battery too fast. Plus, I wanted to test the durability and reliability of the solar charger.
Four days backpacking through the wilderness and it held up fine. I had it clip to the outside on my backpack (see pic) where it did get banged around a bit but it still function as it should.
The fast charger is indeed fast. My phone (Galaxy S10) fast charged in almost same amount as if it was plug into a wall outlet. As long as there's direct sunlight it will charge relatively quickly. The only thing you need to keep in mind is that it's a solar charger and direct sunlight on your devices will cause heating issues. You can keep you phone inside the internal pouch but I found it better to keep it underneath that pouch panel itself. It's thicker and will provide better heat protection. Or, if possible, keep your devices in the shade when charging using a longer cable.
Some rough numbers--it charged my phone from 40% to roughly 75% in a littler over 30 mins. At one point I forgot to shield my phone from the sun and it only added 10% power in 20 mins before my phone auto-shutoff the charge to protect itself. Phone was really hot but that was my fault.
Comes with DC cable and two small carabiner. Has two USB ports and only one is for fast charging. I like this solar panel a lot. It packs some power for a relatively small and lightweight package. It a great option if you're outdoorsy, you need it as part of an emergency kit or a bug-out-bag.
Portable charging for the teens car
I bought this for my daughter as part of an auto emergency kit before she takes a small road trip to visit her grandparents. She had everything thing else like the battery jump starter, tire inflator, etc. She owns a small power bank to charge her phone, but I wanted something dedicated to stay on the vehicle.
This is such a great size to throw into the gear bag, but honestly, it's small enough to fit in those pockets behind the front seats or the glove compartment.
When she needs it, it's the perfect size for sitting on the dash or the hood of car. She fairly outdoorsy so she may even throw it in a bag for the beach. It's not much bigger, definitely not any heavier than the power bank she already has. But 30 Watts and the large solar panels will assist for faster charging.
Emergency Preparedness at its best
I bought this item to add to my emergency preparedness kit and have not been disappointed. The solar charger is a perfect size and weight where you can power and charge any of your essential items you would need in an emergency situation (e.g., phone, tablet, emergency radio, flashlights, batteries, etc.). Some of my favorite features: 1)The solar charger is about the size of a regular folder you would put into a school backpack which makes it convenient to put into a backpack or larger rucksack. 2) also like that they put in grommets in each of the corners so the panel is easy to hang and catch the most sunlight. As soon as you place it in the sun and plug in your electronic device, charging happens quickly. 3) the outside of the panel is covered with a durable nylon type cloth that would do fine against any rough surface outside. The folding style will also protect the panels from any damage which is very important! Overall I'm very pleased with the purchase and will likely use it outside of my emergency preparedness for camping or picnicking with my family!