---
ECEEN 7Watts Solar Backpack, Solar Panel Charger, ECEEN Solar Backpack 7 Walls Solar Panel Charge for Smart Cell Phones and Tablets, GPS, eReaders, Bluetooth Speakers, Gopro Cameras
Features of the Solar Backpack:
SOLAR CHARGER BACKPACK (7W) - Enjoy free on-the-go power with the ECEEN? solar charger backpack - perfect choice for any outdoor enthusiast. It comes with plenty of pockets & compartments for maps, documents and essential gear. Perfect for backpacking, trekking, mountaineering, fishing or biking, it is made of high quality.

7 WATTS HIGH EFFICIENCY SOLAR CELLS - SUNPOWER made-in-the-USA solar cells, with 22% transfer efficiency, are built into a protective anti-scratch hardened coating & sewn into high-wear PVC fabric for weather-resistant outdoor durability.

CHARGE A VARIETY OF DEVICES - Charge your device directly through a 5V USB port,The removable solar charger with Voltage Stability Controller,for GPS systems, MP3 Players, Bluetooth Speakers and more!

Ultra-Light. Ultra-Durable. Ultra-Awesome - The backpack is perfect for day-to-day use or occasional travel, and a great of gift. It's made from rip and water resistant fabric, and provides strength and long-lasting performance, with minimal weight. Stress points are reinforced with bar tacking for increased longevity.

NOTICE & PACKAGE CONTENTS - 1Pc Backpack, 1Pc 7Watts solar charger panel, 1 set User manual and 1Pc micro-USB cable.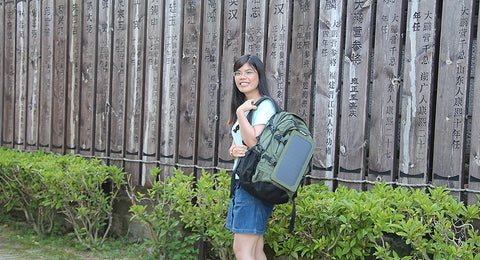 ECEEN, Share the Sun!
ECEEN - our focus is on providing sun power for outdoor sporters.

Why ECEEN Solar Backpack?
ECEEN Solar Backpack captures more sunlight than conventional solar panels, which means it generate more electricity per panel.
The removable and compact size solar panel charger is designed for portability - just hang it on the backpack when outdoors. Convenient clips make securing the solar panels to the backpack a snap.

About ECEEN Packable Backpack
With a stylish design, this go-anywhere pack is for super-minimalists who make every gram count. Ultra-light. Ultra-durable. Ultra-awesome. The backpack is perfect for day-to-day use or occasional travel. Adjustable breathable straps make it easy and comfortable to carry for all day use.

MULTI COMPARTMENTS
Features a classic shape with several pockets for storage and organization. This backpack has a roomy main compartment, with enough space to store other accessories like laptop/notebook, iPad, books, gadgets, keys; ideal for hiking, travelling and all outdoor activities.

Notes:
The solar panel should face to the natural light when charging.


Astounding quality and Design
First weekend and the backpack has already been used thoroughly: it is exceptionally well designed and build with premium materials and solutions. Two thumbs UP!!
Great company, great backpack!
I already own a Bobby Urban original and use it for EDC in NYC.
I was a Kickstarter purchaser of this backpack and like many other US customers, my pack arrived squashed. Mine also had white unremovable streaks that looked like stomped in plaster dust. I straightened it as best I could and painted it with several diluted coats of Angelus Leather Paint. The result was lumpy but the color was good. I have been using the damaged one around NYC to carry my desk and lenses and have gotten compliments especially after demonstrating the features. The only downside is that the fidlock phone case us too small for my smartphones. The solar panel works well. I have not tried the wireless charging. I hope that XD will make a larger phone holder. My replacement just arrived through Amazon, hence the review.
The company promised replacements in 3-5 weeks and made good!
It is feature packed. My next international trip is next month. I intend to use it as my personal item. This is on JetBlue. I have not yet measured it as a personal item for Ryanair.
love this bag
this bag is everything i thought it would be
Power on the go
It's exactly what I was looking for. I went to the zoo and the backpack kept my battery charged up. I dont use the wireless charger, but it's nice to have I suppose.
Future backpacks
WOW what an amazing backpack.