---
ECEEN 7Watts Solar Backpack, Solar Panel Charger, ECEEN Solar Backpack 7 Walls Solar Panel Charge for Smart Cell Phones and Tablets, GPS, eReaders, Bluetooth Speakers, Gopro Cameras
Features of the Solar Backpack:
SOLAR CHARGER BACKPACK (7W) - Enjoy free on-the-go power with the ECEEN? solar charger backpack - perfect choice for any outdoor enthusiast. It comes with plenty of pockets & compartments for maps, documents and essential gear. Perfect for backpacking, trekking, mountaineering, fishing or biking, it is made of high quality.

7 WATTS HIGH EFFICIENCY SOLAR CELLS - SUNPOWER made-in-the-USA solar cells, with 22% transfer efficiency, are built into a protective anti-scratch hardened coating & sewn into high-wear PVC fabric for weather-resistant outdoor durability.

CHARGE A VARIETY OF DEVICES - Charge your device directly through a 5V USB port,The removable solar charger with Voltage Stability Controller,for GPS systems, MP3 Players, Bluetooth Speakers and more!

Ultra-Light. Ultra-Durable. Ultra-Awesome - The backpack is perfect for day-to-day use or occasional travel, and a great of gift. It's made from rip and water resistant fabric, and provides strength and long-lasting performance, with minimal weight. Stress points are reinforced with bar tacking for increased longevity.

NOTICE & PACKAGE CONTENTS - 1Pc Backpack, 1Pc 7Watts solar charger panel, 1 set User manual and 1Pc micro-USB cable.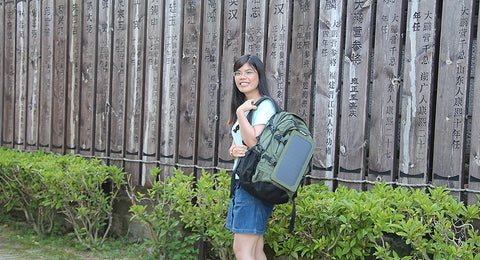 ECEEN, Share the Sun!
ECEEN - our focus is on providing sun power for outdoor sporters.

Why ECEEN Solar Backpack?
ECEEN Solar Backpack captures more sunlight than conventional solar panels, which means it generate more electricity per panel.
The removable and compact size solar panel charger is designed for portability - just hang it on the backpack when outdoors. Convenient clips make securing the solar panels to the backpack a snap.

About ECEEN Packable Backpack
With a stylish design, this go-anywhere pack is for super-minimalists who make every gram count. Ultra-light. Ultra-durable. Ultra-awesome. The backpack is perfect for day-to-day use or occasional travel. Adjustable breathable straps make it easy and comfortable to carry for all day use.

MULTI COMPARTMENTS
Features a classic shape with several pockets for storage and organization. This backpack has a roomy main compartment, with enough space to store other accessories like laptop/notebook, iPad, books, gadgets, keys; ideal for hiking, travelling and all outdoor activities.

Notes:
The solar panel should face to the natural light when charging.


Moderna y práctica
Muy buena presentación, excelentes acabados, me lo lleve a Perú, el espacio es mas grande que la primera Bobby. Creo que valió la pena esperar.
Genial muy buena compra
Carga muy ràpido mas de lo esperaba. Pesa muy poco es muy ligera y tambien es muy practica.
Tiene muchos bolsillos y compartimentos , ideal para tenerlo todo separado de manera que sea fàcil de encontrar. Tiene mucha capacitad . Compraré varias para regalar estàs navidad.
Bello, curato e dalle ottime prestazioni
La spedizione è stata puntuale come sempre. Il prodotto è veramente di alta qualità, tanto per i dettagli curati dello zaino, quanto per il funzionamento ineccepibile del pannello solare, che sta caricando il mio smartphone "in diretta" ad una velocità davvero inaspettata.
Trendig - innovativ - nachhaltig
Mit diesen drei Stichworten lässt sich mein erster Eindruck des Rucksacks mit dem Solarmodul beschreiben. Die Verarbeitung wirkt sehr ordentlich und das Design durchdacht.
Zur Haltbarkeit kann ich noch nichts sagen, da ich den Rucksack erst gestern bekommen habe.
Das Solarmodul lag heute in der Herbstsonne und hat brav geladen.
Das Einzige, was spontan vielleicht noch fehlt wäre ein Gurt, der den Rucksack vorn (über Brust oder Hüfte) stabilisiert.
Wenn die ersten Outdoortests gemacht sind, werde ich Erfahrungen ergänzen.