---
Features of the ECEEN Solar Hydration Backpack
BE ACTIVELY ENERGY EFFICIENT: Please noted that this item not include "BATTTERY PACK"; Enjoy nature and preserve it at the same time with ECEEN 7W Solar Backpack. Ideal for holding backpacking supplies, as well as hiking, biking, or camping, the light, portable pack can hold and charge your small mobile essentials using solar energy with the attached solar panel and our Voltage Stability Controller. That's what we like to call proactive, literally.

PROTECT YOURSELF, YOUR PLANET AND YOUR DEVICES: Why not to love? Put safety first with this mobile phone charger, ensuring you're not left with a dead battery in an emergency. Utilize clean, natural energy from the sun to power your devices, on the road or at home; you have direct sunlight. And prevent damage to your devices while traveling by tucking them in one of the perfectly sized and secure compartments of the durable backpack.

STAY CONNECTED, OFF THE GRID: Whether you are bringing along a tablet for GPS, a phone for photography, or an iPod for some motivating music, ECEEN solar charger travel backpack will keep the juice flowing with high-efficiency 22% transfer rate solar cells, a 5V USB port, and protective Voltage Stability Control, which prevents unstable or damaging currents. Your search for the perfect camping backpack is officially over.

KNOW THE FACTS: Solar power is abundant, clean, renewable, and effective. In fact, each hour, enough sunlight reaches the earth's surface to provide for the world's energy demand for a year. ECEEN, as a professional manufacturer of solar products, we have been committed to manufacture energy savings, green and modern solar products. Come on! We already prepared ECEEN Solar Cycling Hydration Backpack for your outdoor sports next time.

DEPEND ON DURABILITY: Crafted to withstand adventure, the solar power backpack is more than a solar battery charger. It is also a bladder backpack, with a 1.8L hydration pack and a plethora of pockets and compartments. The sport quality weather proof PVC fabric guarantees top performance and reliability, and weighs less than 3 lb. overall. ECEEN backpack is a necessary eco friendly addition to your hiking gear or camping accessories.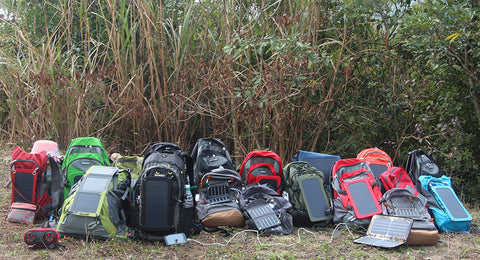 ECEEN, Share the Sun!
ECEEN - Our focus is on providing sun power for everyone

ECEEN Water Backpack, Solar Powered Bicycle Backpack has all of the functionality and design of a well-equipped backpack, with the addition of a Green, Earth-friendly solar charging module.
The Solar camel bag has 1.8 litres water bag inside, allowing you to hydrate any time during your ride.
The front flap features a light-weight, flexible, integrated solar charger for your cell phone, iPad or tablet for the times when you don't have a power outlet.
Solar Power Bag is a cool, stylish and durable backpack with a detachable solar panel on it that will charge your devices from the SUN!
Solar Power Bag has a powerful innovative solar panel that charges a dead cell phone very quickly, as well as tablets and many mobile electronic chargeable devices.
Solar Power Bag saves you from being in a powerless situation during your ride.
The powerful, lightweight removable panel is designed with the new solar panel technology.
Great for kids at school, music festivals, camping, hiking, biking, all kinds of travel as well as many other lifestyle activities.


Notes:
The solar panel should face to the natural light when charging.
Please plug cable out and connect your device with solar charger when your device shows the device not support or stop charging.
Five Stars
Perfect fit for my engineering computer!
Práctica y cómoda
Es muy practica y definitivamente cómoda en los brazos y espalda.
Well made and works great.
It charges slower than a plugin charger but works great at keeping topped off. Lots of pockets and compartments too.