---
ECEEN LED Reflective Vest with Pouch USB Rechargeable Bright Safety Lights Belt High Visibility & Adjustable Waist for Night Running Jogging Cycling - 3 LED Glowing Modes Reflector Strips
BRIGHT LED REFLECTIVE: The 360°reflective LED Bar & Belts make sure you're seen in the dark from all angles, Glowing LED lights keeps you light up the night and safe in the daytime, 3 Eye Catching Flashing Modes: Solid, Blinking, Strobe in bright green color, Choose your preferred depending on your requirements. The LED safety vest has 11 reflective areas for additional provides 360 degrees of visibility will maximaze your safety!
ONE-SIZE FITS ALL: One size perfect fits Man, Woman & Kids. SMALL to X-LARGE: Waist Band Circumference: 33.5 - 39 inch | 85 - 100 cm, Waist to Shoulder: 16.9 inch | 43 cm. So it doesn't chafe. The high light guide fiber strips strongly enhance your personal safety while walking, jogging, running, dog walking, cycling, motorbiking, kids playing, or even directing traffic.
POCKET with ZIPPER: Breathable mesh fabric provides a soft and comfy feeling, you'll even forget wearing this reflective jacket. Front large zippered pocket allows storing iPhone, key, cards and your carry-on items while running or working outside.
USB RECHARGEABLE: Illumination Time 10 Hrs / Charging Time 2 Hrs. USB charge in, brighten your after-work rides without having to constantly buy new batteries or glow sticks.
BREATHABLE & WASHABLE: Made of high-quality green wearable mesh cloth. It is lightweight and breathable. How To Hand-Wash? 1. Turn off the light. 2. Remove the light controller. 3. Use a soft brush to wash the vest in cold water. (HAND-WASH ONLY)

Why you need ECEEN LED vest? 
Feel much safer: The LED strip of optical fiber more bright and noticeable. If you are a frequent road cyclist, runner, worker in the dark, the safety vest is perfect for you.

 

360 degree visibility: The reflective vest has 11 high-quality reflective areas, provides 360-degree illumination, reflects light of headlights back to drivers, which will promptly draw a driver's focus from all directions. 
Lightweight: You won't even feel you are wearing reflective gear. It would be comfortably worn over a T-shirt, Sports Gear, Winter Coat or any type of clothing at all seasons.

 

 An Ideal Gift For: 
Runner, Cyclist, Dog Walker, Motorcyclist, Marathon Runner And More.
How to wash the vest? 
Turn off the light.

 

Remove the light controller.
Use cold water and a soft brush to wash the vest separately. (HAND-WASH ONLY)

 

 

How to charge the vest? 
Find the USB port on battery box. Charge it via the usb cable. 
The red light indicates it is charging. The green light indicates it's fully charged.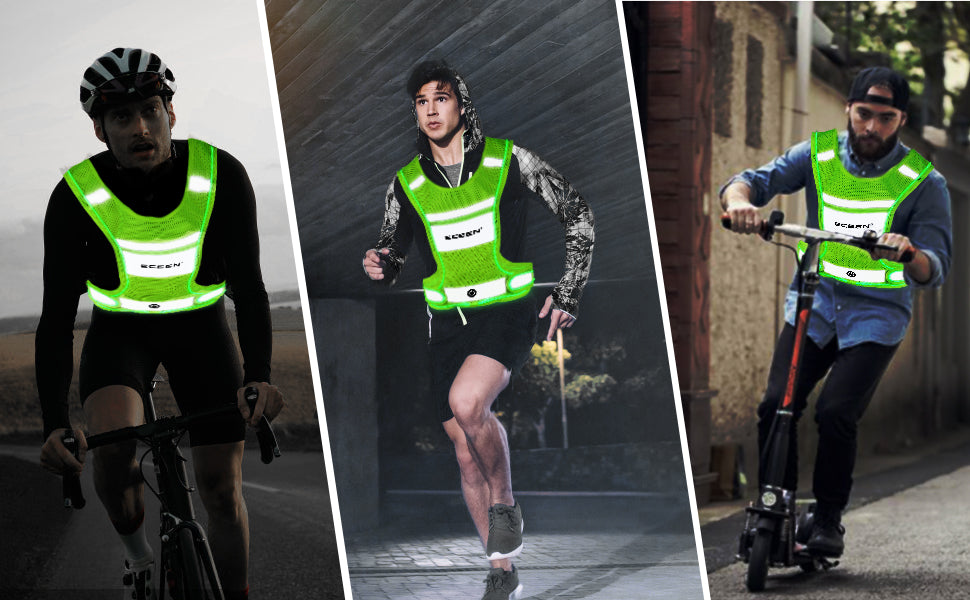 Specification: 
Fits From: Child to Adult
Material: Polyester reflective band + Led light + Breathable mesh fabric
Waist Circumference: 33.5-39" / 85-100 cm
Waist To Shoulder: 16.9" / 43 cm
Bright LED Lights: PU material covering on LED light-guide tube
3 Amazing Glowing Modes: Steady On / Rapid Blink / Slow Blink
Charging Time: 2h
Usage Time: 6-10h
Excellent vest
I really like the vest and wear it daily in the dark when walking my dog. It is a bit small for me, though. I am 5'11" / 185 lbs. and the vest barely cinches when wearing a warm, bulky jacket for the rain and cold.
Awesome product
Exceeded my expectations.
Would be great if offered in a larger size as well.
Not to go unnoticed
I use this fantastic gadget with my monowheel and I assure you that it is impossible not to see me. Light and comfortable To wear
Working as expected, finally found a vest that works for me
I had been looking for a light up vest that would last. I just got this, so hopefully will continue to work. Initial impression is really good. Easy to put on, power button in the front (thank you!!!), lights go all around so front and back are clearly visible. The pocket is in a nice handy place on the front. I like the idea of rechargeable as well. My previous vests were hard to deal with - worried about breaking open the battery case and ruining the waterproof feature.
Definitely would recommend. After 2 uses at night no complaints, working as expected. Will update as I get further into use.
Great way to stay safe
Several people I know have been hit by cars recently 鈥?while biking, walking, or running 鈥?because the drivers just "didn't see" them. So I wanted to make myself as visible as possible. The vest is bright and highly reflective, and the LED strips are eye-catching without being distracting. With the velcro tabs at the side, it's also very easy to put on and take off. As the description says, this is one-size-fits-all, which means it's a stretch to fit it over a winter coat (I'm a medium-sized guy), so just be aware that it runs a little small.