---
ECEEN 7W Solar Charger Panel Portable Emergency Charging for iPhone, Samsung, LG, HTC, Nexus, HTC, Nexus Etc. Smart Phone & more USB devices
Features of the Solar Panels:
HIGH EFFICIENCY: Constructed of the 7 Watts high efficiency sunpower panel, the power conversion rate increases up to 20%, providing enough power to charger for your devices. High conversion rate gives you a peace of mind whenever you need power to charge your devices. Sometimes you would forget to charge your power bank. This product offers you a far better solution than a battery, as it's also more environmentally friendly.
SMART CHARGING TECHNOLOGY: Built-in intelligent chip can match optimal current output for your charging devices automatically. It greatly protects your charging devices. The USB ports provide up to 1.5 A under direct sunshine sometimes and charge your devices very fast, even as fast as being connected to a wall port in really hot summer day.
STAY CONNECTED, OFF THE GRID: Whether you are bringing along a tablet for GPS, a phone for photography, or an iPod for some motivating music, the ECEEN solar charger will keep the juice flowing with high-efficiency transfer rate solar cells, protective Voltage Stability Control, which prevents unstable or damaging currents. Yo ur search for the perfect solar panel charger is officially over.
THOUGHTFUL DETAILS: Free 4 Carabiners & 4 Suction Cups. It sports holes to use with 4 Carabiners for attaching charger to backpack or other item while hiking or mountain climbing. The 4 suction cups included also provide the ability to attach the solar panel charger to your windshield or sunroof of your car. It is great for camping, picnics, and other outdoor activities
INCREDIBLY DURABLE: Constructed of SUNPOWER® solar cells and industrial-strength PET polymer faced solar panels sewn into a rugged polyester canvas offer waterproof and dust-proof outdoor durability. ECEEN solar panel charger covered with super fully 12 months warranty and friendly customer service.
 ECEEN Portable Solar Phone Charger, Power Your Life.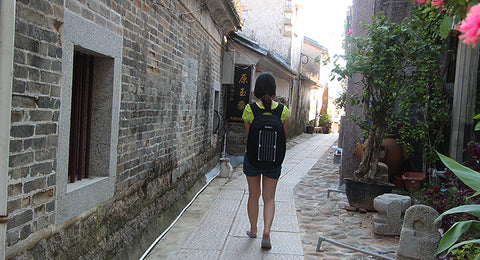 Why Choose ECEEN Solar Charger
ECEEN SUNPOWER solar charger has high efficiency conversion rate, so it can capture more sunlight than conventional solar panels, do not need much sunlight to charge items. The transformation efficiency is up to 22%, while most of the similar products on the market is 15% or even lower
Off-the-grid Power
When you're out enjoying the great outdoors, enjoy another perk: free power. Simply spread out the solar panels or attach to your pack to start recharging your gadgets.
Superior Portability
Compact design 4 rugged stainless-steel eye-holes on each corner make attaching it to a backpack or tent a cinch. Super lightweight and it easily fits in a daypack.
Incredibly Durable
Industrial-strength PET plastic faced solar panels sewn into high-wear polyester canvas ensure it's able to withstand the trials of your outdoor adventures.
Advanced Safety
Short circuit and surge protection technology keep you and your devices safe.
Specification:
* Solar Power: 7W sunpower solar charger
* Transformation efficiency: 22%               

* Weight: 0.26kg/9.2oz
Note:
1. Due to the intensity of sunlight, the charging to your mobile often is not very stable.
2.To ensure best performance, we strongly recommend using your device with original cable or a third-party certified cable.
3. It will not work well in cloudy days.
Good
Working normally 4.83 volt and 0.43 amp at direct sunlight.
Need 16 days untill arrive to home.
Worth it. Thanks
ECEEN 6.5W solar charger
Very light unit that works great. I'm looking forward to backpacking with it.
Powerful solar panel
Arrived in good time for testing. We went out for a walk today and depended on this little device to keep all our devices charged. It done a great job being recorded in bright sun light. Love it