There are many uses for the solar backpack. I belive in future, everybody will own a solar backpack for work and play, the below reasons for your reference why you need to choose a backpack for your next trip with solar charger panel.
What's the Solar backpack?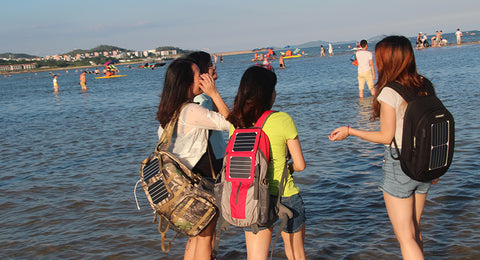 Solar backpack is a sports backpack as your normal backpacks, but with solar panels and standard USB plugs which can generate the power from the sun, it means that the solar panel ability to convert sunlight into energy, then charge your Power bank, GPS, Cell phones, Mp3 players, Digital cameras, USB lights etc. 5v device directly, Or you can stored the energy in the batteries, then the battery powered for electronic devices, emergency power supply…
The backpack with a solar panel is one of the best alternative sources of energy for outdoor activities. It is very easy to go Hiking, Biking, Climbing, Running, Outdoors and more.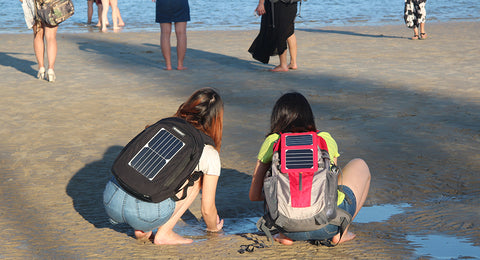 What's Features of Solar Backpack?
The solar panels are portable, lightweight and high efficiency, most of solar panels are not more 2 lbs, it's similar a book, so you can put it inside of a tiny backpack.
And most of solar panels are foldable & removable from the backpacks, so you can take the solar panel under the sun but no need with backpack together while charging your device, it means no need to bask your backpacks when you charge your gadgets;
Or you can hook the solar panel on the backpacks, so that you can charge your device while you're walking, hiking or biking etc.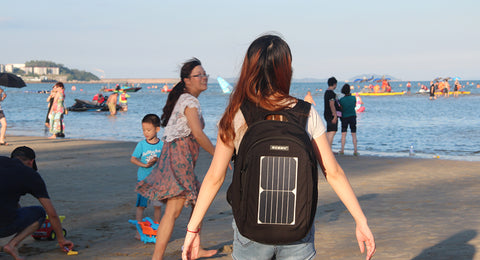 Why We need a Solar Backpack?
It's a great backpack can take all your needs as normal backpacks, and the solar panel able to give you energy when you are enjoy the sunshine.

Many people like to go hiking, camping… but we don't like ot take heavy things like the power battery, the solar panel have an amazing power soure from the sun, No matter where you are, no need to carry heavy power batteries and accessories as before, you're able to take all things in your backpacks, and never worried the battery worn out, thanks the solar panel and the sun, the endless energy from the sun provide you, Just place the solar panel under the sun, and enjoy your outdoor life.

Wondering what we are on the camping, maybe in the tent we will want to rest, play music, read a book, watch your cameras, maybe play cell phones, then carrying 10,000mAh power bank can work 1day, it's OK, but for 3-5 days trips, you need to take 5pcs power banks, but carrying 5 power banks at the same time is not easy at all.
This is why a solar backpack you need, an effect of 5 power banks and more at the same time! Just recharge your power bank at daytime if you need, surprising? It is very nice for your camping, hiking.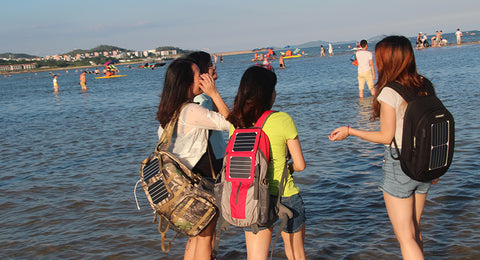 Tips of Use the Solar Backpacks
Normally, just need 5-6 hours to charge full 10000mAh power battery pack, don't worry how the weather is, there is always an opportunity that the sun is at least as able to break its rays through the clouds.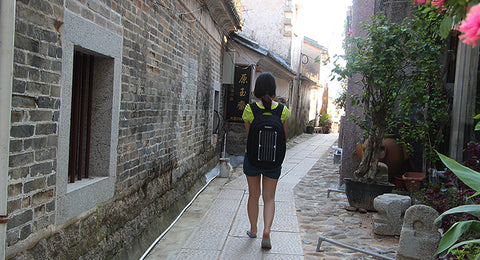 Share your Outdoor Life with the Solar Backpacks
Some of us can't imagine run without music when hiking, walking…
And always we wanted to place videos on social media? and want everybody to see what you did moments were? You will enjoy to talk or message to your friends, And tell them something happens at instant time.
But the battery of your music players, cameras, cell phones and flashlights etc. are rarely last for longer than one day, you have the ability to charge batteries, It's a possible with a solar backpack, You will be able to complete control your situation, no matter of the time of the day or night.
There are Some of Solar Backpacks for your Reference
1. Cycling Hydration Solar Backpack
-- This backpack design for biker
2. Normal Hiking Solar Backpack
-- This backpack for 2-4days outdoor camping
3. External frame Solar Backpack
-- This backpack special for hiker 4-7days outdoor life used
4. Students Solar Backpack
-- This backpack for students go to school and sports
5. Foldable Solar Backpack
-- This backpack for people carry on when they fly to other city or countries, or 1-2 days normaly camping used.